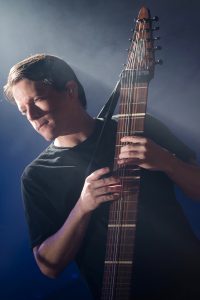 Malone plays Stick
from: Mayubaasan
~Tell me what made you pick up a bass guitar?  Who started, which album and tune started you playing a bass?
Sean:I was inspired by the band Rush at first, after watching their Exit Stage Left concert video. I also enjoyed Chris Squire's playing a lot too but when I decided to buy my first bass, I bought a fretless because of Mick Karn.
~As a bass player, you have a wide choice, four-strings, five or more strings, fretless or fretted, picking or fingering…
How did you pick out your style up to now?
Sean:I played a 4-string bass for about 12 years, but then I switched to a 5-string bass because I was interested in having the extended range that the low B-string provides.
I chose fretless because, as I mentioned above, I was inspired by what Mick Karn was doing: nobody played like him, and fretless bass seemed very expressive to me.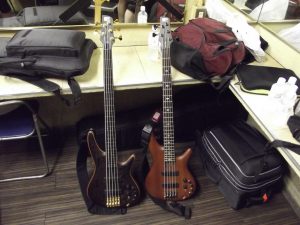 from: Syo
~I have been to all of the shows in Japan.
You used the fretless bass as usual at Drop Osaka though, I was really surprised that I saw you playing that fretted-bass for the first time there.
Why did you play both of that fretted bass and fretless one only in Osaka?
Sean:I brought the fretted bass as a back-up, and since I brought it all that way I decided to play at least one show with it.
~Then I noticed your signature-fretless bass was different from that you used one in last year, for example, the dots on fret board. Were there two signature fretless basses in your house? Or did you replace the neck of the fretless one?
Sean:Though it was custom-made for me, the bass I use isn't a signature bass (you need to be famous for that). I have two necks for the fretless: one that is coated with off-center dots, and one that is uncoated with centered dots.
~I'd like to order same spec on your signature fretless bass though, I think the neck is definitely different than that the "Ibanez SR5005E" selling at the store. So I'd love to know what kind of lumber of your bass guitar's fret-board and neck-board.
Sean:Yes, the two fretless necks are maple with ebony fingerboards, and the uncoated neck has my initials on the headstock. You can see the instrument a little more closely in this short video I made for Eden:
~At the meeting and greeting event in Tokyo, you said an important feature of the signature fretless bass is un-coating thin neck and fingerboard.
Please tell me those are same thickness of the neck as " GWB1″?
Sean:Yes, it is.
~What do you think of the strongest point of your bass-playing?
Sean:Well, that's not for me to say — I still feel like a beginner in many ways. But I will tell you something that I think is important: to play each note distinctly and purposefully.
~And tell me the secret of your writing music.
Sean:I wish I had one! If you find something, please let me know.
~If I remember correctly, there were no compressor on your equipment list on your past blog (seanmalone.net). Why do you use multicomp now? Why are your preamps all of EBS make?
Sean:The MultiComp is for The Stick, not for my bass. I probably should use a bass compressor live, and I might in the future, but for now I am satisfied with going through the EBS D.I. I became interested in EBS when I first toured with John Wesley last year. I borrowed Colin Edwin's EBS amplifier and I really like how it sounded, but since I don't use a speaker cabinet on stage I wanted to use something like a rack unit or a pedal. EBS makes a D.I. box which has a speaker emulator in it, and that's what I've been using.
~Do you still have and play Kubicki Ex-Factor bass?
Sean:I don't play it as much, but I do still have it.
~What was most impressive about Japan?
Sean:The quiet dignity and kindness of the Japanese people.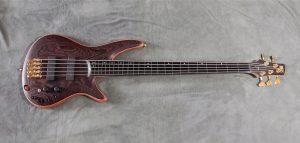 from: miyabaa
~Please tell me about the "Grace (live)" on Emergent album, how was the concert? And how did you enjoy the show?
Sean:That was recorded at a composers' concert at university, and yes I enjoyed the show!
~I'd like to know about the book "Dictionary of Bass Grooves" and attached audio CD. I could imagine that "work" was very enjoyable, so how did you finished the recording? Were there any interesting or funny story on the recording?
Sean:That book was fun to write but also a lot of work, too. When you are writing something that is just meant to introduce readers to a musical style, it can be difficult to sufficiently cover everything with such short examples. Sean Reinert agreed to play on the CD, and we had a lot of fun recording it (and laughed a lot recording the disco example).
~How did you feel when you met Chapman-stick at the first time?
Sean:It was very exciting because I saw it unexpectedly in a music store. I had no idea how to play it but I wanted to try it anyway, especially because I didn't know when I might see one again.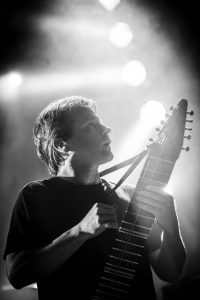 from: Shibu and Momo
-Thank you very much for coming to Japan with Cynic and miraculous gigs.
My dream came true!
Especially, I was moved when I listened to your bass play in "Carbon-Based Anatomy" live.
Did you enjoy staying in Japan? What did you think of Japanese audience?
Sean: It was my first visit to Japan, and I wish it could have been much longer. Originally, I was hoping to have some time to arrange private bass lessons and maybe set up some clinics in music stores.
There just wasn't any extra time though.
So, a clinic tour that could be supplemented with lessons and/or master classes would be a great way to plan a second visit to Japan.
The Japanese audiences were by far the most appreciative audiences I've ever encountered; you could just sense the anticipation every night.
I feel very lucky to have had the privilege of performing for such enthusiastic
and appreciative people.
-I've heard that you were influenced by Mick Karn (ex-Japan).
I was surprised when I heard it because I hadn't thought he and Japan were popular in the U.S. Please tell me how did you know them.
Sean: I first heard Mick Karn when a friend of mine played his solo album
called Titles for me (I was about 17 years old and had just started playing bass.)
I thought it was the strangest bassplaying I had ever heard, but up until then I was limited to bands like Rush, Led Zeppelin, and Yes.
Then I heard his project with Bauhaus singer Peter Murphy called Dali's Car, which also featured incredibly innovative bass playing.
Next was Karn's CD Dreams of Reason Produce Monsters, where a song like "Buoy" demonstrated that you could play unconventional bass lines
but still provide traditional support in what was essentially a pop song.
Shortly after that I began listening to Japan's later CDs like Gentlemen Take Polaroids, Tin Drum, and Oil On Canvas.
It was then that I decided to play fretless bass (I still hadn't listened to Jaco Pastorius yet). From there I continued to follow Mick Karn's career as well as David Sylvian's.
Mick Karn has been, and will always be, one of my all-time heroes.
He opened my ears and my mind to exciting and challenging music when I was just beginning to play.
In hindsight, I think I benefited from having such unconventional influences early on.
It's still difficult to believe he is no longer with us.
-You work as an assistant professor of music theory, so I think it is hard to take time out from your busy schedule to join tours.
How many tours/gigs have you been able to join to Cynic aside from Japan tour in 2015? (from the point you became a member of the band in 1993 to present.)
Sean: My first live performance with Cynic was in Kendall, Florida, which was the only concert with the complete recording lineup of Focus. We played the Dynamo Festival in Eindhoven, Holland, in 1994.
After that was the North American tour during that same year.
The next time I played live with Cynic was twenty years later at the 2014 Graspop Festival in Belgium.
From there we did two quick tours: a week on each coast of the United States, including a performance at Heavy MTL in Montréal, Québec.
Last was our 2015 tour in Asia, which ended sooner than was originally
planned.
-Have you been influenced from your students who have interesting ideas?
Sean: Every educator has their own view of teaching, but I believe very strongly that effective teaching requires an exchange between teacher and student.
Put another way, you must be willing and able to receive as much (if not more than) as you transmit. So in that sense I am constantly learning from my students.
from: Shibu, Momo and Shotaro
-Gordian Knot, which former-King Crimson members Bill Bruford and Trey Gunn were involved in, was an amazing work. I feel a similar spirit of King Crimson (Discipline-era).
Did you struggle with selecting musicians who appropriate for the album / asking them to join the album?
Sean: I was very fortunate to have had musicians such as Bill Bruford and Trey Gunn involved with Gordian Knot.
My thinking with regard to reaching out to them was that they will either be
interested or they won't: the budgets were very small for those projects, and the audience for them even smaller, so unless the music interested them in some way there wasn't much else that would likely motivate them to play.
Thankfully though they said yes, as did everyone else I
asked.
-Are there any possibility to be released new Gordian Knot album?
Sean: There are no current plans for a new Gordian knot CD.
-Recently, King Crimson re-unioned and has been on a world-wide tour.
Their Japan tour was great and became a hot topic. Have you seen their re-union gig?
Sean: No, I have not seen any of the King Crimson reunion concerts.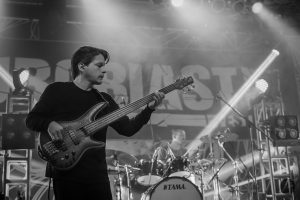 from: Shibu, Momo and yahman
-The songs in "Cortlandt", your first solo album, have various elements, like fusion/classical music/world music/prog rock.
They have different tastes from Cynic ones, so I strongly feel that Cynic music is the exception for you.
Didn't you have any hesitation about joining death metal scene and band like Cynic?
Sean: It's true that my relationship with Cynic has been a bit unconventional all of these years, but given the band's history it is understandable that some have thought of me as being a "metal" bassist.
To me though, metal—as it pertains to Cynic—has always been more of a musical texture than a lifestyle.
And I have always thought of myself as just being a bassist, not any particular kind of bassist; the politics of musical genre are lost on me.
What might help to make sense of this is that when I was asked to write parts for, and to play on, Focus, there was no consideration of the future at that point.
In other words, there was no talk of being a "member" or touring at first.
When those opportunities arose we took things step-by-step and I contributed when and where I was able to, given my school work and teaching.
By the time we did Traced In Air, technology had advanced in such a way that we could collaborate over long distances.
Because of this, the meaning of what it was to be a "band" had also changed, and ever since then I haven't thought of whether I am a "member" or not—at
least not in the traditional sense.
At the very least I am part of the Cynic story, and I've been both
fortunate and grateful for every opportunity I've had to make music with Paul Masvidal and Sean Reinert, in Cynic or otherwise.
So, if playing with Cynic somehow makes me a "metal" bassist to some, then so be it.
But at the center of everything is simply this: sum musicus—I am a musician, one who happens to enjoy studying, composing, and teaching music as much as performing it.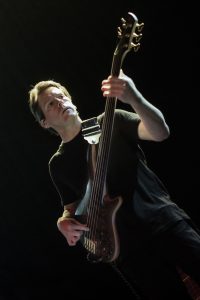 from: Shibu and Momo
-You played with Clockwork, Philadelphia's prog rock band, in "East of Knowing".
That Latin-flavored song was interesting. Did Laser's Edge ask you to play for the band?
Sean: Yes. I was approached by the owner of the label if I would play on one of their songs.
-You worked with Aghora as a co-producer and bass player.
Would you tell me the story how you and the band became to work together?
Sean: Santiago, the band leader of Aghora, was a friend of Paul and Sean's as well as a Cynic fan for a long time.
It was through Sean that I became involved with the project.
-About OSI. Mike Portnoy introduced Jim Matheos to you, and you took part in their first album.
It is a high-quality heavy prog rock, and your performance fits their music very well.
When they offered you, had they already finished composing all material for the album? (or did you have any space for your ideas at the recording?)
Sean: I was free to play what I wanted. A few revisions were made here and there, but for the most part they were happy with what I came up with..
from: miyabaa
-I know you're friends with Mike Portnoy. How did you get to know him?
Sean: Around the mid-1990s, I heard from a few people that Mike liked the Cynic CD. He was doing a clinic that wasn't too far away, so I thought I'd go there and say hello.
Mike was very generous with his time, inviting me along to dinner with his drum rep and a few others.
We talked about music and the bands we liked the entire time, and we've been in touch ever since.
from: Shotaro
-About Gordian Knot, how did you get contact and record with prog legends
such as Bill Bruford and Steve Hackett?
I heard a rumor that "Emergent" came from unexpected encounter with them.
Sean: I sent Bill a letter in the mail along with a copy of the first GK CD.
His response was very kind and positive, so I sent him some demos and asked
if he would be interested in playing on a few songs.
He was willing, but because of his schedule it wouldn't be possible for him to travel to the U.S.
I asked him that if I were to travel to London during the time he was available,
would he still be interested. He said "yes", but then I had to figure out a way to get to London―an expensive trip for a student.
Around that same time, I had applied for a research grant from the university I was attending, to study Bach manuscripts at the British Library in London.
I ended up being awarded that grant, so I booked the trip and the sessions together.
While I was there, it was Bill who put me in touch with Steve Hackett.
-Please tell us a detail about the video you are jamming with Michael Manring.

Sean: I was living in Oregon at the time and saw that Michael was going to be doing a solo performance at a club nearby. We had previously exchanged a few e-mails, so I got in touch with him again and told him I was looking forward to seeing him play.
He was very generous to have me join him for a song, and we ended up playing "Donna Lee" together.
I can't say enough good things about Michael: he is a great musician, an incredible bassist, and a very kind person.
from: Syo
-What kind of shielded cable do you use?
Sean: I don't have a preference; it's whatever I have at the time.
-You've played different type of Stick, e.g., Ten stringed Grand Stick, Railboard Stick since 1990s. How did you choose your specifications for Stick?
And how did you match your Stick to its pickup?
Sean: Emmett Chapman continues to innovative his designs, so over the years I have upgraded to new models.
I switched to a 10-string Grand while recording Traced in Air and that's what I have played ever since: I like the wider string spacing, and also because I never really had a musical need for the two additional strings found on the 12-string Grand. I have tried several different woods, but I prefer Indian Rosewood.
The PASV-4 pickup provides a wide range of tonal possibilities,
but I would be happy with any of the pickup models―they all sound very good.
-Then why do you use phaser only the Stick?
Sean: I like adding a little bit of phaser to the bass side of The Stick for color,
but not too much.
For the most part I have not used time-based effects on bass (phaser, chorus, etc.), especially since they tend to make playing in tune on a fretless more difficult.
But even so, I've never really liked those kinds of effects on bass guitar.
-Have you ever played the NS Stick? If so, tell me how did you like it.
Sean: No, I have not tried the NS stick.
-Could you tell me how you write bass-lines for CYNIC.
Sean: Usually I'm given a demo of the song or even the completed guitar and drums recording.
It's also important to have at least a rough version of the vocal melody.
I listen to the demo without an instrument, and usually just hum or sing ideas that come to mind (I usually listen while I'm driving or when I go for a walk,
getting a feel for the arrangement, etc.).
After a while I may write some of those ideas down in notation, or I will go to my bass and start playing along with the demo.
Next, I record a draft of the bass part and send it to Paul and Sean.
From that point we'll collaborate on the arrangement and if any changes should be made (in any of the instruments). Once we are all in agreement, I'll record a final version of the bass part.
One of the reasons I've enjoyed being involved with Cynic is that the three of us have a very similar musical perspective, and I can't think of a single time when we ever argued about our parts.
In other words, we rarely edit each other―everything seems to fall together naturally.
-Do you have any plans to publish an instruction of bass or practice book?
Or a book about pencils and stationery?
Sean: I have no current plans for publishing any new books.
-Tell me if you have an interest in some of Japanese music or Japanese musicians.
Sean: Regarding traditional Japanese music (and Japanese art in general), the concept of ma has influenced my relationship with art, music, and teaching.
And two of my favorite performers, who happened also to be Japanese, are Mitsuko Uchida and Kazuhito Yamashita.
from: Shibu, Momo and Syo
-You have been playing with various bands/musicians. Are there any impressive works except your own project and Cynic?
Sean: I really don't know what you would consider "impressive", so it's difficult for me to answer. The questions I received for this interview seem to cover my main recordings.
from: Shibu and Momo
-Could you tell me which musicians you want to play with in the future?
Sean: To be honest, no one in particular (though I would be very happy to study with Zakir Hussain).
I've been very lucky to have played with a lot of inspiring musicians, some of them even my heroes, but I think less about the future than I used to.
from: Shibu , Momo and Shotaro
-What do you do in your spare time outside of music?
Sean: I spend a lot of time reading, and when I'm able to, I enjoy traveling.
I also have an interest in vintage writing instruments and writing culture in general.
I suppose that by nature I'm very curious person, so most of my time is spent trying to learn more about the things that interest me.
---
from: Shibu and Momo
-Talking about RUSH. Sorry for my abstract question.
What does RUSH mean to you?
Sean:  Some of my earliest musical memories are of Rush, so that band has been a part of my life for a long time.
When I was 13 or 14 years old, I never dreamed that I would one day become a musician and play bass.
Once I became a bassist, I never thought I would have the opportunity to record and perform for people.
Once I started performing I never imagined I would one day play a concert of Rush songs with musicians like Mike Portnoy and Paul Gilbert, like the one we did in 2006.
And even after all these years I never really thought I'd have the opportunity to meet Geddy and Alex as I did last year.
So Rush, as you can see, has been a part of my musical life for as long as,
or perhaps even longer than, I've been playing music.
-Which song your Top 5 RUSH albums and 5 songs are?
Sean: I'm sorry but I don't tend to make lists like that, especially when there is so much music to choose from.
But I can tell you some of the recordings that have been meaningful to me.
As for albums, Hemispheres, Permanent Waves, Moving Pictures, and Signals were a big influence on me, as we're Grace Under Pressure and Presto.
Some songs that come to mind are "Hemispheres", "The Trees", "The Spirit of Radio", "Red Barchetta", "Vital Signs", "The Pass" and "Subdivisions" to name a few.
But there are many, many, more.
-Could you tell me your interesting RUSH songs and reasons from a viewpoint of a professor of music theory.
Sean: I think I know what you are looking for here, but music theory isn't really a tool for evaluating music.
It's kind of like asking about poetry from the viewpoint of grammar and spelling.
But if we are just talking about composition in general, I would say that there is a deep sense of variety, integration, and virtuosity in the music of Rush.
They constantly push themselves and very rarely repeat musical ideas,
so each successive release promises to be from a new musical perspective.
-Please tell me your most impressive RUSH gig and your impressive memories of RUSH.
Sean: I haven't been to many Rush concerts, but I think it was the concert from the latest tour that I enjoyed the most. Part of the reason why is because it looked like they were really enjoying themselves, too. Also, their playing was incredible from start to finish; they were in top form.
All photos courtesy Sean Malone.